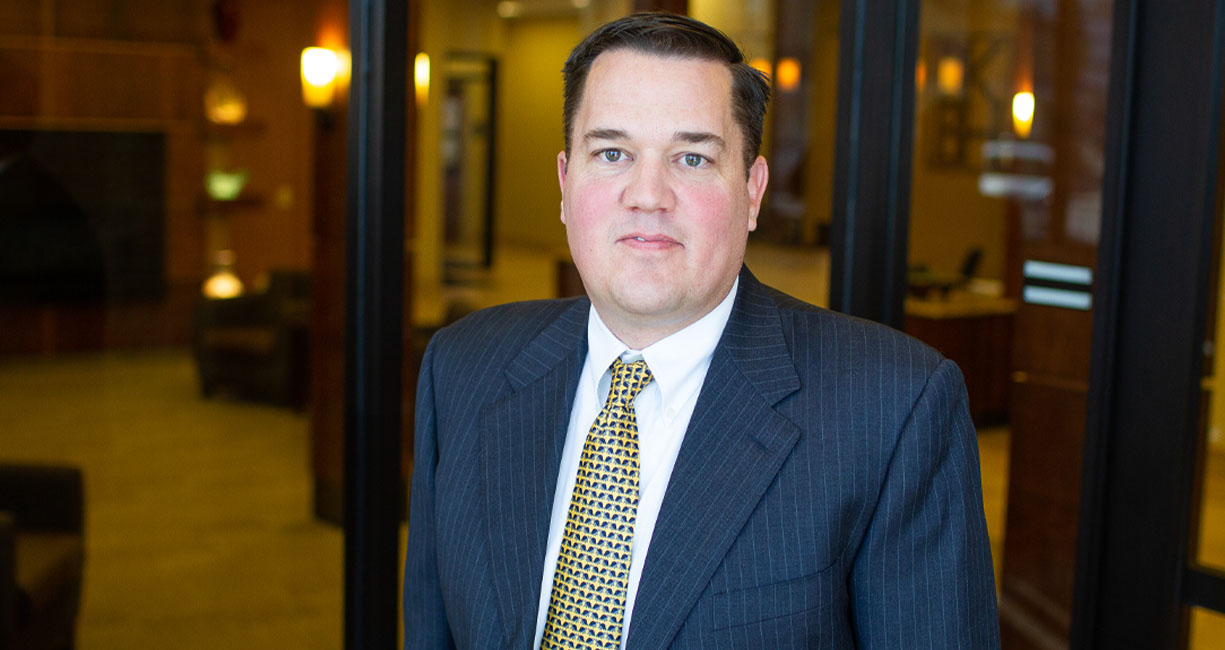 Chad Adams is an experienced trial and appellate attorney who defends businesses, municipalities, correction facilities, attorneys, and insureds in a wide range of litigation matters in both Montana state courts and federal courts.
Appellate Law
Chad routinely represents clients before both the Montana Supreme Court (where he has represented clients in more than 30 cases), and before the United States 9th Circuit Court of Appeals (where he has represented clients in more than 15 cases).  As an appellate attorney, his representation includes almost all types of cases other than criminal and family law cases, including matters such as personal injury and cases involving limits on the rights of municipalities to take certain actions.
Governmental Entity and Corrections Actions Representation
Much of Chad's practice is devoted to representing governmental entities and correctional facilities in personal injury, medical malpractice, negligence and Section 1983 cases, including those involving alleged constitutional rights violations (often concerning 1st and 8th Amendment rights).  In this area, Chad has represented both governmental entity and corrections clients in more than 100 cases.
Employment Law
Chad's employment law practice is devoted to representing and defending employer clients in a variety of workplace disputes, frequently involving claims for wrongful termination, retaliation, discrimination, and sexual harassment.  He helps employers by providing advice and counsel when claims arise concerning how best to minimize liability and quickly resolve or avoid legal setbacks so that clients can focus on running their businesses.
Administrative Law
Business operations can be significantly affected by federal and state government regulations and enforcement actions.  Chad routinely represents clients at the administrative level of government, appearing before state boards, commissions, and agencies.  He has  experience in navigating the regulatory process in a range of areas including health, environmental quality, public service, utilities, business licensing, insurance, transportation, and others.
Litigation
Chad is a seasoned trial attorney and zealous advocate who sues and defends companies and individuals in matters involving negligence, intentional torts, products liability, constitutional violations, business break-ups, contract disputes, surety issues, government agencies, retirement benefits, business asset disputes, and many other issues.  He has also represented clients in toxic tort and state superfund matters.
Insurance Defense
Chad's insurance defense practice is devoted to defending self-insureds, insureds, insurance companies, related entities, and individuals in lawsuits alleging bad faith and other claims arising out of property and casualty insurance matters.  He has significant experience in representing policyholders and carriers in disputes involving general liability, professional liability, property claims, premises and construction liability, and products liability.
Products Liability
Chad has a wide breadth of experience representing designers, manufacturers, and retailers of many different products in product liability claims.   In cases involving unfounded personal injury, wrongful death, property damage, or economic loss claims, he provides tireless representation to protect the reputations and financial positions of clients.
Chad earned his bachelor's degree in English and Philosophy from Utah State University and his Juris Doctorate from Baylor University Law School in Waco, Texas.  When not practicing law, Chad enjoys outdoor activities, including hiking, wildlife photography, fly-fishing, and ice hockey.

J.D., Baylor University Law School
B.A. (English and Philosophy), Utah State University
Montana (All state courts)
United States Court of Federal Claims