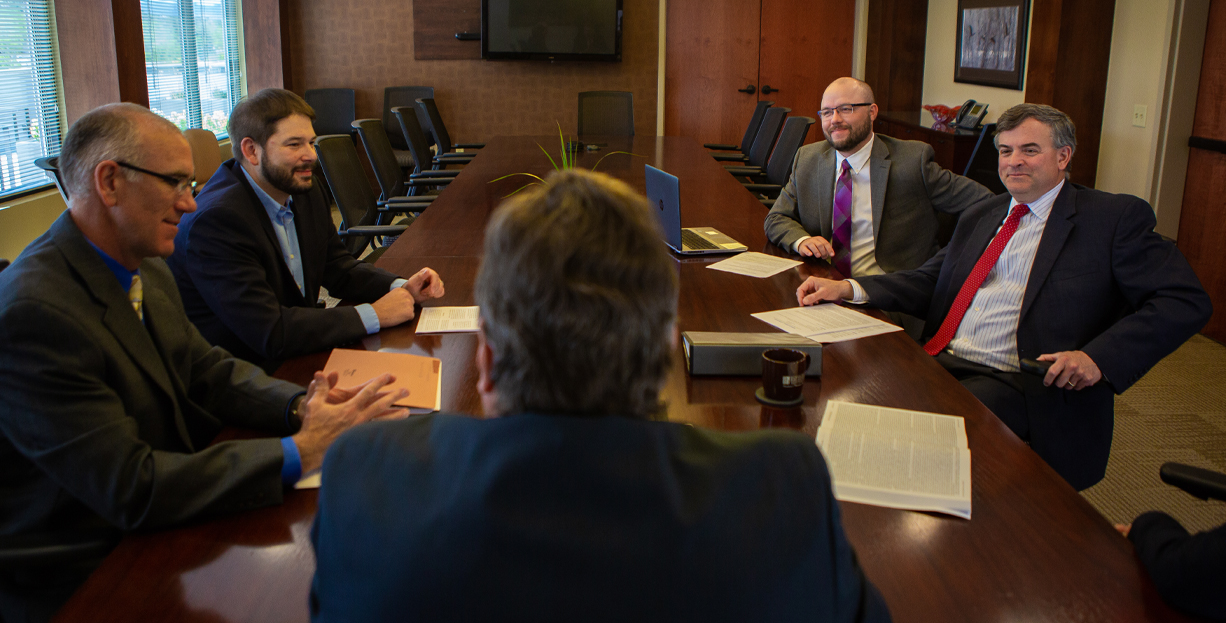 We provide proactive counsel, policy creation, employment defense, workers' compensation representation, and advice to respond to urgent employment matters.
Employment Defense Lawyers
Employers in Montana must comply with a vast array of laws affecting employer/employee relationships. Since its inception, BKBH has counseled and represented public and private Montana employers and their insurers as part of its wide-ranging and growing employment law practice.
Proactive Consulting – Policy and Procedure Development
BKBH often assists clients in developing and implementing effective employment practices, including drafting or updating personnel policies and procedures to comply with best employment law practices, conducting reductions in force, assessing liability arising from independent contractor relationships, and general civil rights law compliance practices.
Our attorneys routinely educate employers in Employment Law topics to be proactive in avoiding wrongful discharge claims.  We additionally offer services in navigating complex issues such as the nexus between workers' compensation statutes, the Americans with Disabilities Act and the Family Medical Leave Act.
BKBH attorneys counsel clients on a variety of employment and labor issues, including:
wrongful discharge,
constructive discharge,
sexual harassment,
employment discrimination,
human rights violations,
unlawful discrimination,
claims for unemployment benefits,
wage and hour claims,
workers' compensation and occupational disease claims,
drug and alcohol testing, and
employment contracts.
BKBH often assists employers in complying with the United States Civil Rights Laws, the Montana Human Rights Act, and federal and state drug testing laws, and implementing programs designed to comply with such mandates while taking privacy and other matters into account. With knowledge and assistance, employers become empowered to make informed proactive decisions to help avoid litigation and preserve a positive and productive work environment.
Responding to Urgent Employment Matters
Montana employers rely on us for prompt, business-objective advice to respond to urgent employment matters that require immediate response.  The range of these matters is broad, and can include alleged unethical or illegal conduct to matters involving harassment or discrimination.  Regardless of the underlying nature of the matter, we stand ready to help employers understand their rights when such matters arise, to provide to them with strategic options and alternatives regarding potential actions that can be taken, and to advise them concerning any opportunities of legal liability minimization.
Employment Dispute Resolution
When wrongful conduct is alleged and litigation is threatened, we help employers understand the strategic options that are available to resolve disputes quickly, whenever possible.  We understand that when wrongful conduct is alleged, employers must carefully consider how best to respond to such actions, balancing matters such as how a decision will impact on future similar matters, defense costs, and management response time.  We help employers identify their objectives so that a response strategy can be developed and implemented.
Litigation
For more than 35 years we have advised and successfully represented Montana employers and their insurers in a number of labor and employment law disputes before the Montana Supreme Court, in the district courts of Montana, and before the Department of Labor and the Workers' Compensation Court.
To achieve successful litigation results we employ a team-based approach that encourages a cooperative effort between the employer, insurer, and counsel. The firm believes the best possible results are achieved when everyone combines their skills and resources to effectively communicate and work together throughout the course of litigation.
Using these strategies, in conjunction with alternative dispute resolution mechanisms where appropriate, and leveraging the technology available to us, we have achieved a high success ratio for our business clients at the administrative, trial, and appellate levels.
Chair: Oliver Goe
Representative Matters
Minimizing Litigation through Proactive Counseling & Policy and Handbook Development
Responding to Urgent Employment Matters
Representing Businesses in Employment Disputes, Mediation, Arbitration & Litigation
Representing Public and Private Employers and Their Insurers on Workers' Compensation and Occupational Disease Claim Issues
Practice Contacts