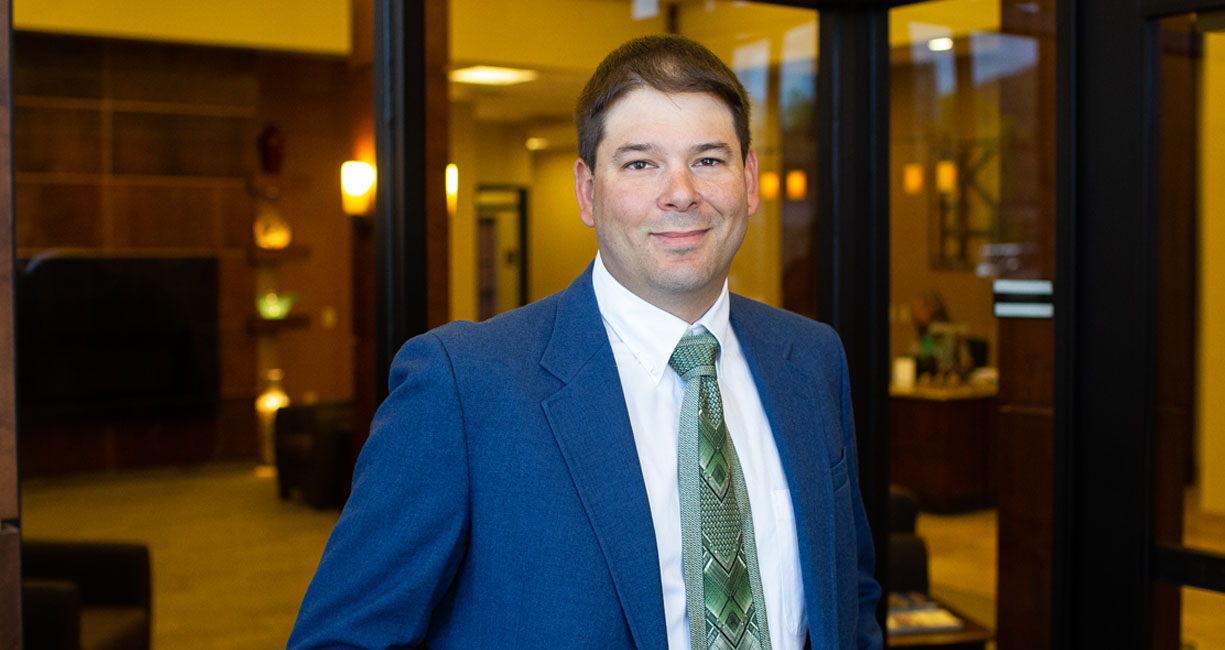 Attorney Evan Thompson's practice is focused primarily on civil litigation matters (including medical malpractice defense), Indian law, appellate law, insurance defense,  employment defense and counseling, commercial law, FELA law, and public housing and landlord-tenant law.   His knowledge of tribal law and tribal issues is extensive, and he regularly helps BKBH clients navigate the complex interplay between tribal, state, and federal jurisdiction.
Civil Litigation
Evan's civil litigation practice is focused on business disputes, insurance defense, and seeking to resolve complex matters for individuals, tribes, and businesses.  He is well-versed in a variety of areas and has a vast understanding of Montana and tribal law, spanning from litigation, medical malpractice, property disputes, personal injury, sovereignty, employer and employee defense, explosion and fire casualty defense, and general liability.
Medical Malpractice
An accusation of medical malpractice can have serious implications for medical professionals, healthcare institutions, and the providers of medical malpractice insurance.  Evan provides a tenacious defense for those accused of medical malpractice, and seeking for them a full vindication through the litigation process and for their reputations.  He and the firm's medical malpractice defense group work with experts in seeking to rebut malpractice claims. For doctors, not only can significant damages be at stake, the physician's reputation, license, privileges, and future cost of malpractice insurance is also at risk.  When claims are alleged, Evan provides tenacious defense in litigation, with a focus on obtaining a "no cause" verdict and protecting the client's reputation.
Indian Law
As a tribal member who grew up on the Blackfeet Indian Reservation, Evan developed a deep respect for the traditional values that distinguish Native Americans and an understanding of the unique challenges faced by tribal communities.  As an Indian law attorney, Evan works tirelessly to provide the zealous representation required to protect tribal sovereignty, enabling clients to prosper now and in future generations.  He routinely uses his expertise to safeguard sovereignty and natural resources, and to develop reservation infrastructures, including updating the tribal Rules of Civil Procedure and developing a Landlord and Tenant Code.
A large portion of Evan's practice is dedicated to the defense of tribal and tribal housing authorities, often in cases involving employment, personal injury, housing, and insurance defense.  He represents numerous tribes throughout Montana, North Dakota, South Dakota, and Wyoming and is licensed in thirteen separate tribal jurisdictions.  He understands the challenges Indian tribes and organizations face and provides full-service legal and strategic guidance and counsel to help resolve critical issues in a manner that respects the long-standing traditions of each tribe.  Evan is the chair of the firm's Indian Law Group.
Appellate Practice
Evan has pursued and won appeals in both state and federal appellate courts, including the Montana Supreme Court, South Dakota Supreme Court, and the United States Court of Appeals for the Ninth District.  If an appeal is needed and desired, Evan files persuasive briefs and tenaciously litigates on behalf of clients for a favorable and just outcome.
Insurance Defense
Evan defends professionals, corporations, and insurance companies from liability claims.  He offers representation in a diverse set of insurance-related matters, such as medical malpractice, premises liability, real estate litigation, workers' compensation cases, products liability, automotive liability, and other general liability matters.
Commercial Law
Evan works with companies in resolving virtually all types of corporate and commercial disputes, including breaches of contract, internal conflicts, business dissolutions, business torts (such as unfair competition, fraud, and defamation), employment litigation, intellectual property infringement, collection, and business transaction litigation.  He also advises on transactional and contract review matters and assists clients in the food and beverage industry with obtaining liquor licenses.
Employment Defense and Counseling
Evan's employment defense and counseling practice includes representing employers and insurers in all facets of employment and workplace matters.  With the goal of minimizing employer liability, he works to find innovative solutions for solving common workplace issues such as discrimination, wrongful termination, sexual harassment, and retaliation, among others.  Evan also helps companies create policies and procedures that help to prevent these types of issues proactively.
FELA Defense
The Federal Employers Liability Act (FELA) provides workers who are not covered by state workers' compensation the right to file a claim against a railroad employer for damages that can far exceed the predetermined compensation benefits.  Evan defends railroad companies in claims brought under FELA for personal injury, wrongful death, and other employee lawsuits.  He vigorously fights frivolous allegations and works to ensure that railroads are not financially liable for unjustified damages.
Public Housing and Landlord-Tenant Law
Evan advises owners of both residential and commercial properties on transactions and assists with evictions.  He also works with tribes and tribal housing authorities to establish Landlord and Tenant Code that specifically addresses the unique housing needs on reservations.
Evan is a native of Heart Butte, Montana and grew up on the Blackfeet Indian Reservation.  He attended high school in Browning and Valier, Montana.  He earned his bachelor's degree in Psychology with a minor in Native American Studies from Montana State University Bozeman in 2005, and received his law degree from the University of Montana School of Law.  While attending law school, he was recruited by BKBH to work in the litigation department.
Evan is married, and he and his wife have a son and daughter.  In his free time, he is an artist, poet, and musician, and enjoys engaging in a variety of outdoor activities with his family.
J.D., University of Montana School of Law
B.S. (Psychology), Montana State University
Montana (All state courts)
North Dakota (All state courts)
United States District Court for the District of Montana
United States Court of Appeals for the District of North Dakota
United States Court of Appeals for the Eighth Circuit
United States Court of Appeals for the Ninth Circuit
United States Supreme Court
Blackfeet Tribal Court
Chippewa-Cree Tribal Court, for Rocky Boys Reservation
Quinault Nation Tribal Court
Three Affiliated Tribes Tribal Court
Standing Rock Sioux Tribal Court
Northern Cheyenne Tribal Court
Oglala Sioux Tribal Court
Wind River Tribal Court
Confederated Salish and Kootenai Tribes of the Flathead Reservation Tribal Court
Fort Peck Tribal Court
Turtle Mountain Tribal Court
Fort Belknap Tribal Court
Yankton Sioux Tribal Court
Montana (All state courts)
North Dakota (All state courts)
United States District Court for the District of Montana
United States Court of Appeals for the District of North Dakota
United States Court of Appeals for the Eight Circuit
United States Court of Appeals for the Ninth Circuit
United States Supreme Court
Blackfeet Tribal Court
Chippewa-Cree Tribal Court, for Rocky Boys Reservation
Quinault Nation Tribal Court
Three Affiliated Tribes Tribal Court
Standing Rock Sioux Tribal Court
Northern Cheyenne Tribal Court
Oglala Sioux Tribal Court
Wind River Tribal Court
Confederated Salish and Kootenai Tribes of the Flathead Reservation Tribal Court
Fort Peck Tribal Court
Turtle Mountain Tribal Court
Fort Belknap Tribal Court
Yankton Sioux Tribal Court
American Bar Association, Member
Defense Research Institute – Native Nations Law Task Force, Vice-Chair
Indian Law Section of the Montana Bar, Member