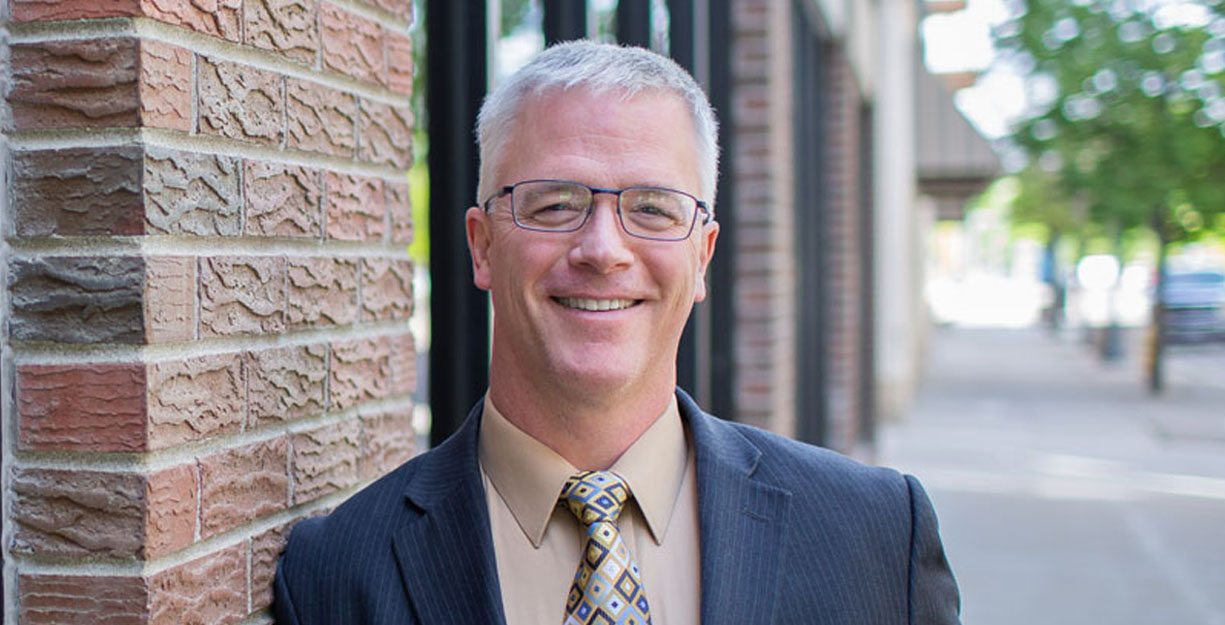 Attorney Michael Rausch is a seasoned civil litigator and trial lawyer whose litigation practice includes insurance defense and coverage, Indian law, business law, construction law, personal injury and property damage, probate, product liability, guardianships, parenting plans, and divorce.  His transactional practice includes estate planning, real estate transactions, liens, covenants, home owners associations, personnel policies and procedures, business formation, contracts, other dispute resolution and negotiations.
Insurance Defense and Coverage
As an insurance defense lawyer, Mike represents individuals and businesses in personal injury, property damage, and wrongful death cases, and in claims involving breach of contract, construction, consumer protection, OSHA violations, motor vehicle liability, products liability, employment and wrongful discharge, federal tort claims liability, and numerous other matters and torts.
Drawing upon his two decades of experience in insurance defense and coverage as well as subrogation claims, Mike's clients rely on him to solve complex legal problems in a cost effective manner, implement successful defense strategies, and advise on critical insurance and legal matters.  From large construction accidents involving bodily injury and property damage to products liability and Indian sovereign immunity cases, he has experience in handling numerous types of claims.
In his insurance coverage practice, Mike provides property and casualty insurers with opinions regarding their legal obligations under the insurance contract, drafts coverage opinions and letters, and litigates issues related to the insurance contract. His track record of success inside and outside the courtroom is attributable to his experience handling these matters and his knowledge of the insurance business from underwriting and sales to claims and claims handling and resolution.
Indian Law
Mike regularly represents tribes and tribal businesses both individually and through insurance defense referrals in Montana and Wyoming.  Tribal law is a specialized area of practice which occurs in all courts throughout Montana.  Mike has the ability and experience to help clients navigate the jurisdictional issues and unique practice of Indian law.
Business Law
Mike's business practice includes assisting people in selecting and forming the proper entity with appropriate agreements, bylaws, and policies and procedures.  Once formed, Mike assists business clients with real estate transfers, corporate records compliance, personnel issues, negotiations, and contract disputes.  Mike's cost-effective representation helps businesses avoid litigation before it starts.  When litigation becomes necessary, Mike obtains resolution through aggressive representation, timely advice, and strategic litigation planning and implementation.  Mike has experience in OSHA matters, bankruptcy issues, contract disputes, insurance disputes, environmental law, and other commercial claims.
Construction Law
Mike's construction law practice often concerns matters involving personal injury, product defects, negligent construction, delays, and payment matters.  Mike gained his knowledge and experience in this area through successfully defending construction companies in insurance defense referrals.  Mike has also represented construction companies directly with OSHA violations, contract disputes, and lien claims and releases.
Divorce and Family Law
Mike provides compassionate representation to clients in divorce and family law matters and provides clients legal counsel and strategies to reach realistic goals involving parenting plans, spousal maintenance, and distribution of marital property.
Mike loves participating in adoptions and guiding parents through that process.
Mike also represents parents and grandparents in contested visitation claims involving children.  As a strong believer in making a life-changing difference for children who have experienced abuse or neglect, Mike also acts as volunteer guardian ad litem for the Courts.
Personal Injury
Mike represents individuals and businesses in both prosecuting and defending against such claims.  Mike's knowledge of this area provides his clients with accurate legal and factual analysis to make informed decisions regarding liability, causation, and damages.  His expertise in this area has successfully resolved hundreds of cases for both defendants and plaintiffs.
Products Liability
Mike has successfully represented manufacturers, car dealers, franchisees, farm implement dealers, and others against claims of product liability.  Such claims include claims related to product design, manufacturing, packaging, labeling, and warnings.  Often, such claims involve insurance related issues including subrogation, contractual indemnity, tenders of defense, and other legal issues which Mike is very familiar with.  Mike's representation will assist you in presenting a strong, coordinated defense.
Trusts, Estates, Probate, and Guardianships
Mike provides clients with estate planning advice and documents prepared at the client's directives and contained in a tabbed and labeled binder for ease of reference.  A typical estate plan contains a will, financial power of attorney, living will, health care power of attorney, HIPAA release, advance directives, and may include important contact information and current asset information for use by your selected personal representative.  It may also contain real estate forms including Transfer on Death Deeds.  Mike typically provides estate plans at a flat rate so you will know exactly how much you will pay without any charged hourly rate.
Mike also represents the personal representative and the estate of the decedent on a reasonably hourly rate basis to ensure smooth handling of creditor claims and distribution of estate assets.  Mike has asserted claims on behalf of estates to recover what is rightly an estate's property.  Such litigation involves issues of elder abuse, undue influence, and exploitation.  Mike also assists clients in obtaining partitions of real estate when a joint business or holding is not possible.  Mike's representation in this area has been successful and beneficial to estate heirs.  Mike also litigates issues related to trusts and provides trustees with advice and representation when needed.
In addition, Mike assists families in obtaining guardianships and conservatorships for incapacitated adult relatives and for children whose parents are absent or deceased.
Real Estate Transactions
Mike has negotiated the sale and purchase of individual homes as well as large properties involving several different individual and business owners.  He has worked with local and state entities including local planning boards and conservation districts on issues involving river rip rap, subdivision development, and zoning.  He regularly prepares purchase and sale documents and deeds to transfer property pursuant to contracts and in estate planning matters.  He also works with developers to create and amend existing covenants.  He has also worked with homeowners associations to pursue insurance claims.
Mike is a native of Great Falls, Montana, the fifth son of a hard-working middle-class family.  He was valedictorian of his high school class and attended Concordia College in Moorhead, Minnesota, where he earned his bachelor's degree with high honors in Business Administration and French.
Mike returned to Montana in 1991, graduating with a law degree from the University of Montana School of Law.  Mike's litigation career began as a prosecutor for the Cascade County attorney's office, where he successfully prosecuted numerous felony jury trials ranging from thefts and burglaries to rapes and homicides.  He was lead counsel on more than twelve of those cases which were tried to a jury.  In 2001, he began his civil litigation practice.  He has successfully resolved hundreds of cases since that time, preparing all of them for trial, arbitration, or mediation.
In 2015, he joined the faculty at the University of Great Falls, where he taught litigation, torts, estates, environmental law, and introduction to paralegal studies.  He is currently an adjunct professor of criminal justice and business law at Great Falls College MSU.
When not litigating, Mike enjoys road biking, singing with the Great Falls Symphonic Choir, teaching, and spending time with his family.
J.D., University of Montana School of Law
B.A. (Business and French), Concordia College
Montana (all state courts) 1994
9th Circuit Court of Appeals 2021
United States District Court for the District of Montana 1994
Blackfeet Tribal Court 2014
Chippewa-Cree Tribal Court 2015
Confederated Salish and Kootenai Tribes of the Flathead Reservation Tribal Court 2017
Fort Peck Tribal Court 2017
Shoshone and Arapahoe Tribal Court 2017
Fort Belknap Tribal Court 2017
State Bar of Montana, Member
Cascade County Bar Association, Member
Montana Defense Trial Lawyers Association, Member
Defense Research Institute, Member
CASA-CAN, Prior Board Member, Past President, Past Vice-President, Guardian Ad Litem, and Legal Trainer for GALs
Great Falls Symphony Choir, Baritone
Great Falls College MSU, Adjunct Professor
Rausch, Thompson, and Simmons.  "Tribal Sovereign Immunity, Its Origins and Development."  For the Defense, March, 2020: 8-13.
CASA-CAN Training RE: Montana Abuse and Neglect Law; presented two to three times annually for local CASA-CAN