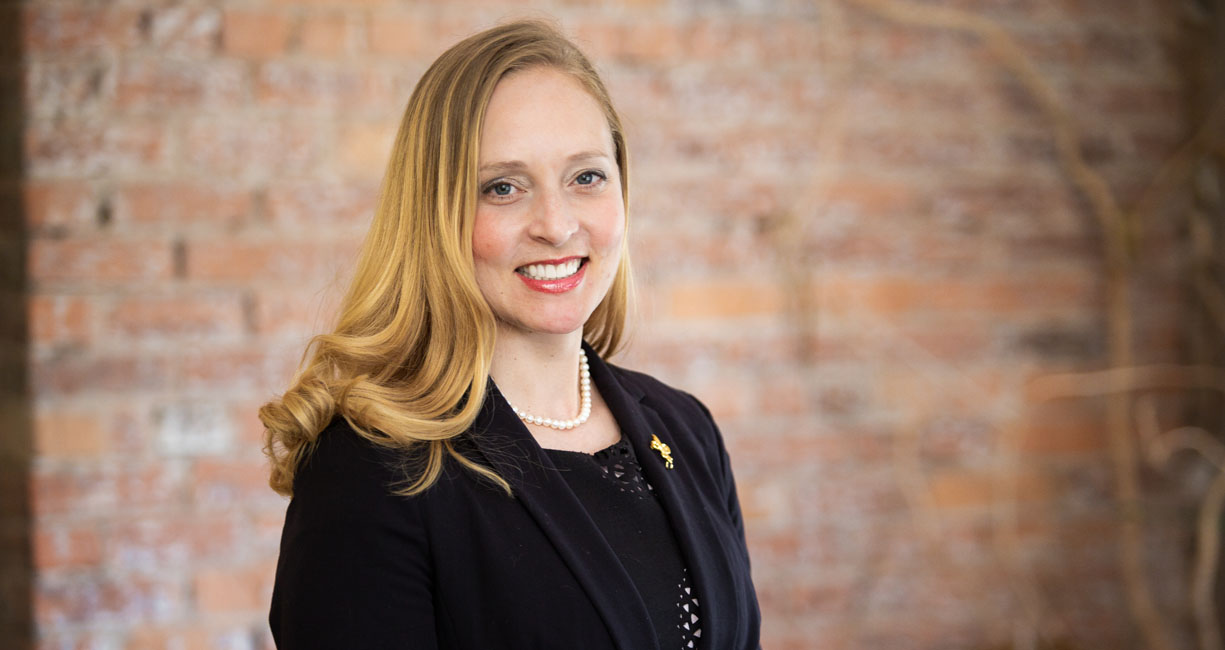 Attorney Laura Buchholtz represents clients in divorce proceedings and other domestic matters involving child custody and support, alimony, division of assets, and other complex issues.  As a military Veteran, much of Laura's practice is dedicated to representing active duty, national guard, and reserve military servicemembers in divorce and family law matters, and helping them in the special challenges and circumstances that they face.  She also represents veterans seeking to obtain benefits.
Divorce and Family Law – Serving Servicemembers, Servicemember Spouses, Veterans, and Non-Military Clients
Laura's divorce and family law practice is devoted to serving clients in separation and divorce, custody/parenting time, child and spousal support, and related matters. She serves clients by explaining the law, helping clients prioritize objectives, and seeks to obtain these objectives through negotiation (and often mediation) whenever possible.  Negotiated outcomes often lead to better results, less cost, and reduced emotional trauma than trial.  When acceptable outcomes cannot be achieved for clients through these processes, Laura is a tenacious advocate on behalf of clients at trial.
Following divorce, Laura often represents clients in parenting plan/custody matters, which sometimes require a guardian ad litem.
When a couple decides to end their marriage while one spouse is serving in the military, divorce can be more complicated, as there are important considerations about where to file, as well as how to calculate child support, determine custody, and divide retirement benefits.  As a divorce lawyer for military clients or military spouses, Laura helps clients navigate complex family law issues, with a focus on minimizing the impact on veteran and servicemember clients.
Laura is admitted to practice in military courts, and regularly counsels servicemembers about their rights and obligations under the Uniform Code of Military Justice, including divorce and child custody requirements, potential ramifications of non-payment of support obligations, and navigating consequences of failure to comply with orders.  On behalf of clients, she advocates to commanders for appropriate support obligations, and is well-versed in cases involving domestic violence.
Healthcare Law and Medical Malpractice Defense
Laura's healthcare law practice is devoted primarily to defending doctors, hospitals, and healthcare providers through a wide-range of alleged malpractice, including the failure to diagnose and delays in diagnosing medical conditions (such as cancer) and OB/GYN matters, including birth injury. Laura graduated from the Loyola Law School Beazley Institute for Health Law and Policy, Chicago, with a Master of Laws (LLM) in Health Law in 2016.
Insurance Coverage
Laura works with Tricare and private insurers to secure much-needed healthcare for military personnel.  She also represents disability and pension claimants in the Veterans Affairs system advocating for appropriate benefits.  She believes strongly in the provision of adequate healthcare for veterans and has written an article regarding mental health-related discharges (read her article here).
Veteran's Affairs Benefits and Appeals
Laura is accredited by the Department of Veterans Affairs to assist claimants in the preparation, presentation, and prosecution of claims for benefits.  She has experience in obtaining benefits, including healthcare, life insurance, base access, compensation, education, vocational rehabilitation and employment, home loans, life insurance, retirement and pensions, survivor benefits, and burial benefits.
Insurance Defense
Laura defends insurers and their insureds across Montana in a broad range of injury and liability claims.  She has significant experience representing corporate clients in automobile, premises liability, products liability, accident and injury, professional liability, and other matters.  She also renders legal opinions and litigates coverage regarding professional liability disputes.
Litigation
A large portion of Laura's practice is devoted to litigation.  She has vast trial experience in military courts and has translated her tenacity and attention to detail to her civilian practice.
Early in her legal career, Laura clerked for the 20th Judicial District Court of Lake County, Montana, allowing her to experience first-hand the inner workings of a local, judicial system.  She uses this experience to advocate for her clients in a wide range of complex civil disputes.
Laura was born and raised in Missoula, Montana.  After high school, she entered a foreign exchange program in Chalais, Switzerland, where she taught skiing while attending school.
In 2000, she enlisted in the United States Air Force as an Arabic Linguist and proudly served in this position for over five years.  Laura was later commissioned as a Judge Advocate General (JAG), stationed at Vandenberg Air Force Base and Malmstrom Air Force Base as the Chief of Military Justice.  She returned to Missoula and began her civil practice in 2016.  To this day, Laura continues to serve in the Montana Air National Guard.
L.L.M. in Health Care Law, Loyola University School of Law
J.D., The University of Montana School of Law
B.A. (English), The University of Montana
A.S. (Communication Application Technology), Community College of Air Force
A.A. (Arabic), The Defense Language Institute
Montana (All state courts)
United States District Court for the District of Montana
United Sates Court of Appeals for the Armed Forces
Air Force Court of Criminal Appeals
Department of Veteran Affairs
American Health Lawyers Association, Member
American Bar Association, Member
Annual Veteran's Stand Down, Volunteer
ABA Military Pro Bono Project, Volunteer
Top Trial Counsel-Trial and Defense Advocacy Course (United States Air Force 2017)
University of Montana School of Law – Clinical Award (Class of 2011)
Commissioned Officer Training Professionalism Award (United States Air Force – 2012)